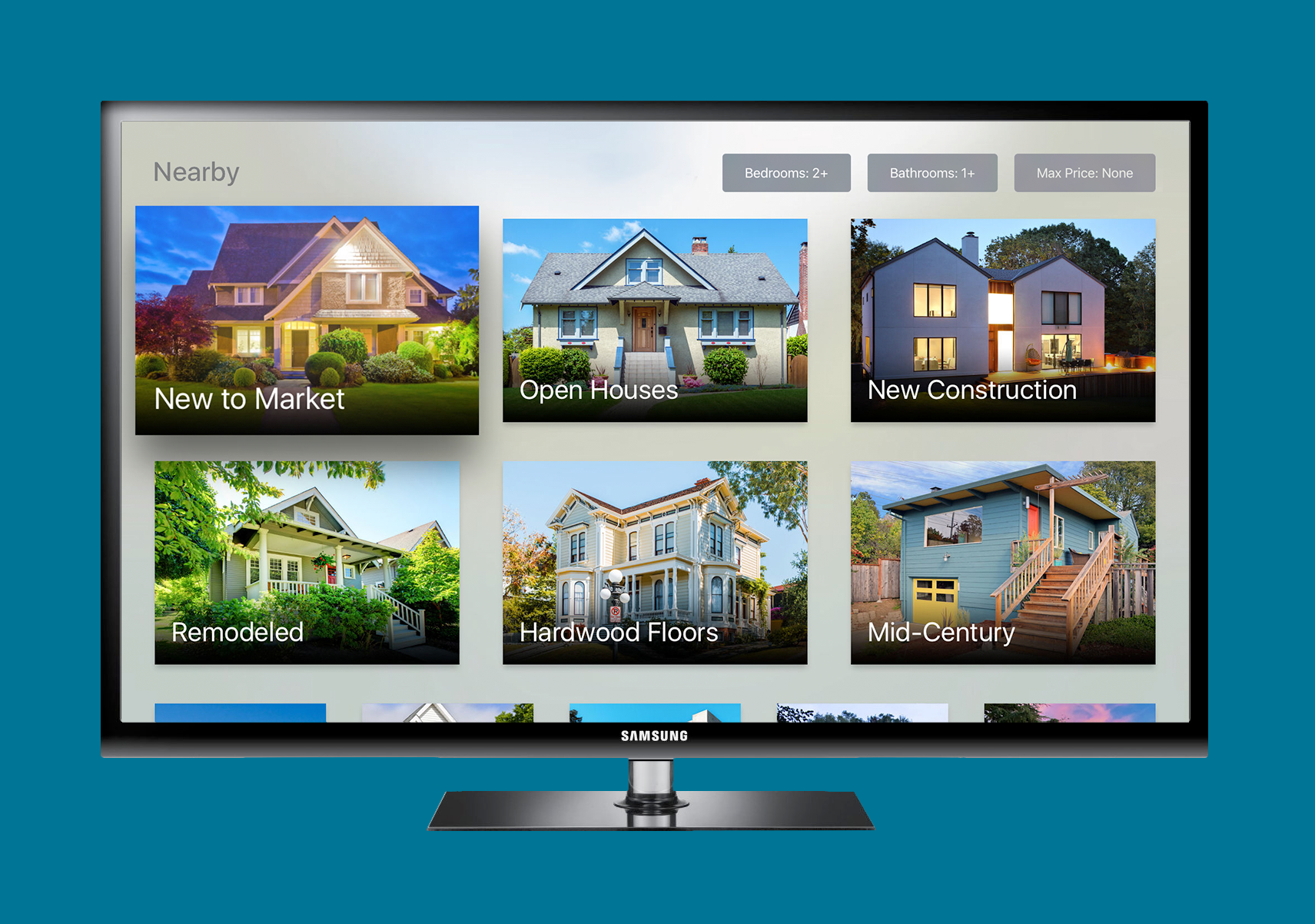 Although Apple TV had included apps from media companies such as HBO and Netflix for years, 2015 marked the first time the platform would be opened to everyone. Would a Zillow experience make sense in a communal living room situation? Would our users find value in the experience? My task was to find out.
After getting acquainted with the Apple TV design guidelines, my developer and I started experimenting with the SDK. We didn't know it at the time but we were designing the first Real Estate app for Apple TV. We had no other apps to try out, no way to test ideas that others had thought might work.

We started by talking through design concepts. Zillow has always been a map driven experience, but the new Apple TV did not include native maps in any form. Years of testing and shipping had taught us that our most compelling content was home data and images, so we started there and hoped the lack of maps wouldn't be too much of an issue.
Although we didn't have map services we did have access to a users location. We assumed an Apple TV would most often be setup in a users home, and we knew users care about what's happening in their neighborhoods, so we landed on the concept of starting the app on a page of nearby active listings sorted by distance.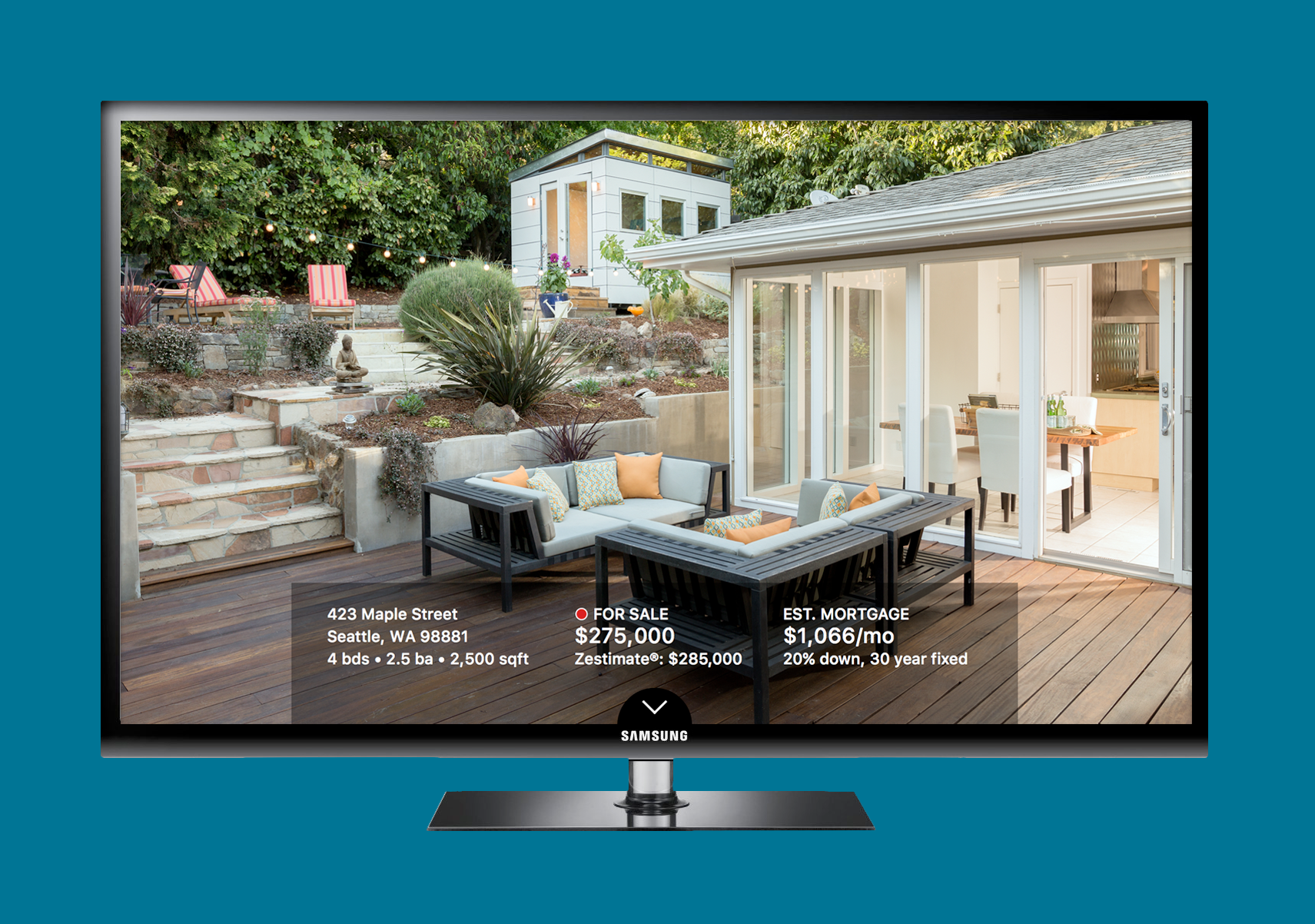 Another concept we felt might work was presenting homes that shared similar attributes as collections. Our design team had been thinking about this concept as an easy entry point into unique inventory and because of the timing of other teams backlogs we were able to be the first to ship this concept at Zillow. We defined ten possible collections that could be displayed in six possible slots based on local inventory availability.

While the large screen seemed like a great place to view photos, it didn't seem like a primary place to search, filter, and save homes. To tie the experience back to the rest of Zillow we included our account sign in so users could view saved homes and searches that were setup on other platforms.
Finally our content team had been working on an initiative to produce original Zillow video content and we thought Apple TV would be a natural venue to support them.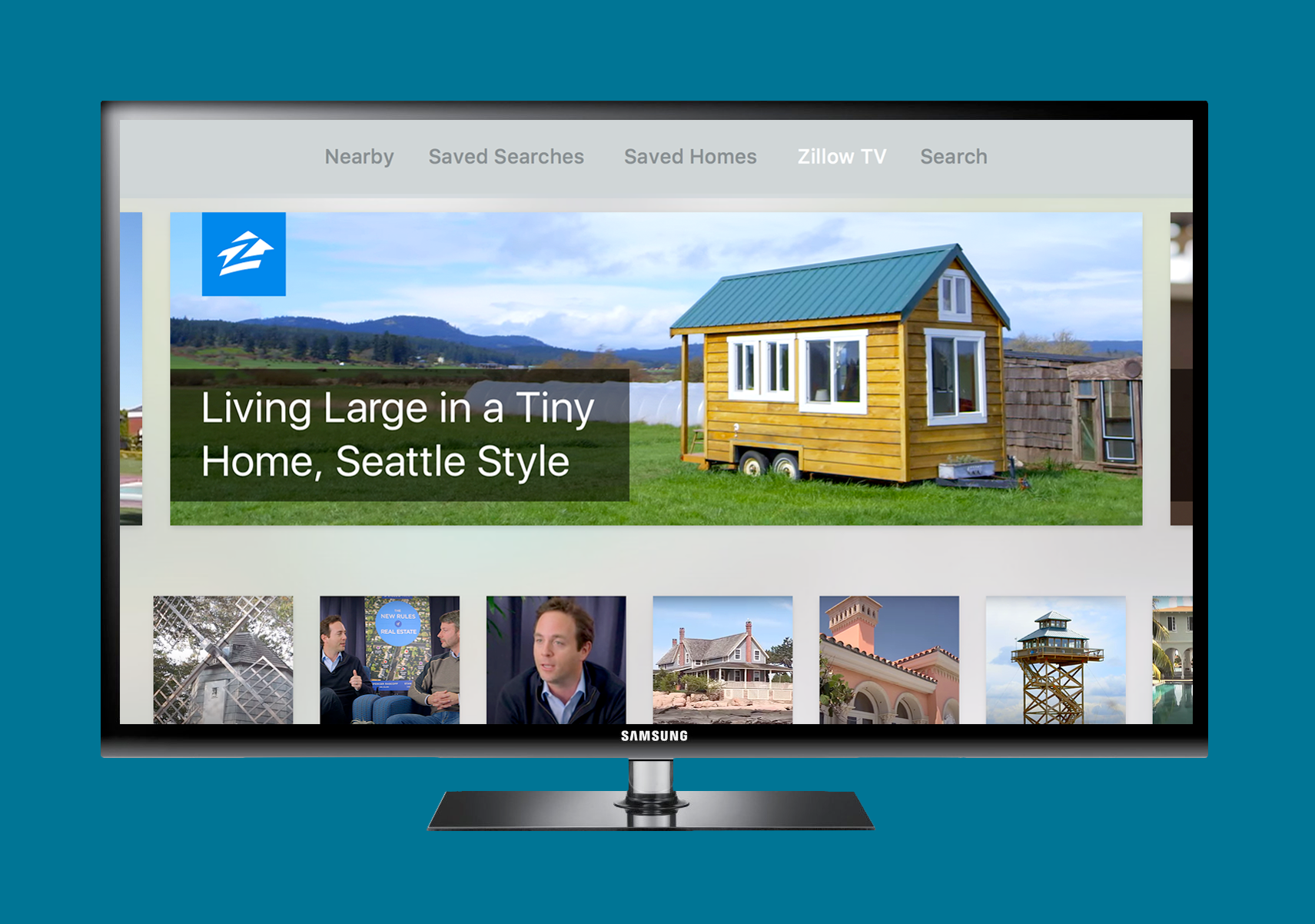 As our team gathered in a lounge area on the 29th floor of Zillow tower to watch the Apple TV keynote we really didn't know what to expect. One by one the lineup of launch apps was announced and we were happy to see our work acknowledged by Apple on the really big screen, but also anxious to let our users try it out.

Initial reviews were great but faded quickly. I felt strongly that the lack of a map was frustrating to our users, but I also noticed in analytics that a surprising number were favoriting homes to view later.
This led me to believe that contrary to our ides that Apple TV would be mostly a viewing platform, it seemed users were actually shopping on their TVs. If that was the case I knew they would appreciate being able to filter results based on bedrooms, bathrooms and price, something that was cut from the initial launch. I was able to get filtering prioritized before the holidays and our reviews and rankings have been slowly improving in the months since.